Regular price
$119.00 USD
Regular price
$299.99 USD
Sale price
$119.00 USD
Unit price
per
Sale
Sold out
The All-In-One Smartwatch!
Upgrade to Moodert™ - all-in-one smartwatch
Moodert™ is a fitness tracker that monitors heart rate, sleep quality, it records steps and calories burned, around the clock. It's also the best for monitoring your fitness progress! In addition, to display alerts and messages, with Moodert™ you can answer calls and text messages when you don't have the phone in your hand, which makes life so much easier!
 Functions:
Messages and alerts
Calculator
Time indication
Stop bell
Timer
Alarm Setting
Step count
Sleep analysis
Body measurements: blood oxygen level, blood pressure, heart rate and body temperature
Waterproof
IP67 rated waterproof watch, no need to worry about sticking your wrist under water. You can enjoy the training without worrying about sweat or water damage.
Integrated charging of headphones
The watch is a patented storage box for charging the integrated earplugs, with quick charging.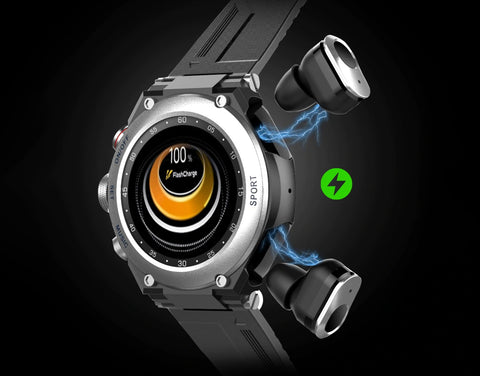 Music on the go!
With 128 MB memory and music storage for more than 100 songs, you can enjoy the music even without a mobile phone, wherever you go!Or connect to your phone's Bluetooth for unlimited music!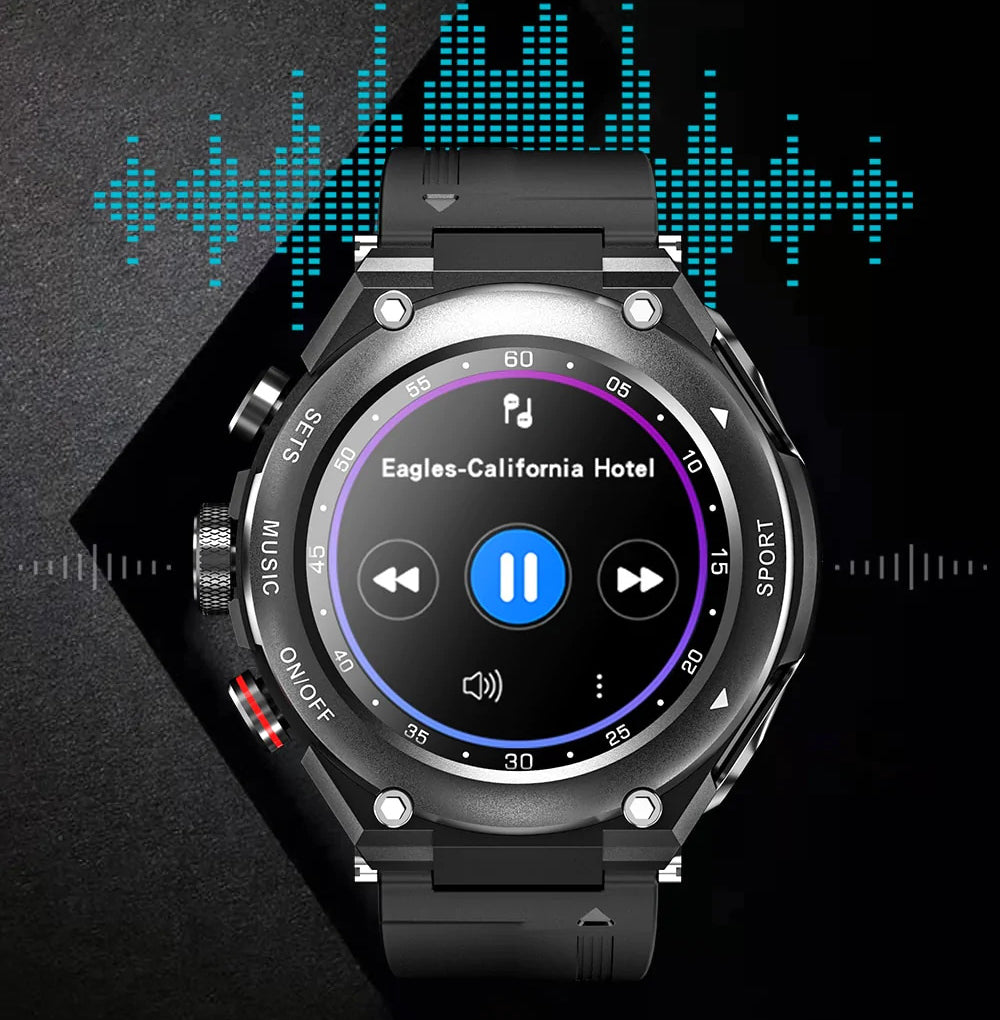 Long life battery
Excellent battery life for daily use. After a full charge, it can be used for 7 days in normal use, or up to 15 days in standby mode.450mAh large capacity battery, use our patented Ultra-low power intelligent chip, charging time 2 hours.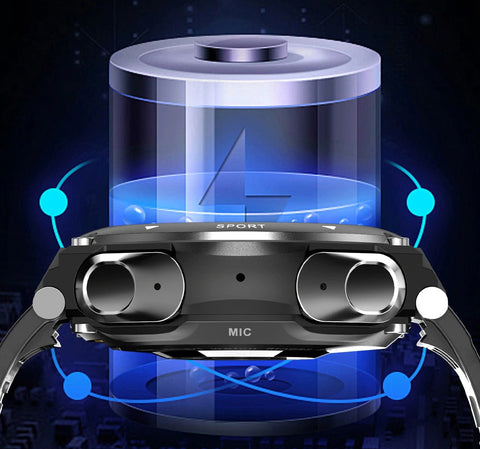 High quality microphone
The watch integrates smart filters, reducing background noise to make your voice clear during phone calls or when recording a note.
 Bluetooth calls
Allows you to answer calls and make calls directly on the smartwatch via a Bluetooth connection. You will never miss an important call or message during a meeting or training session.
Equipped with a high-sensitivity microphone, independent sound and high-quality calls. Provides super comfortable call experience, ringtone reminder, no missed calls, and handsfree.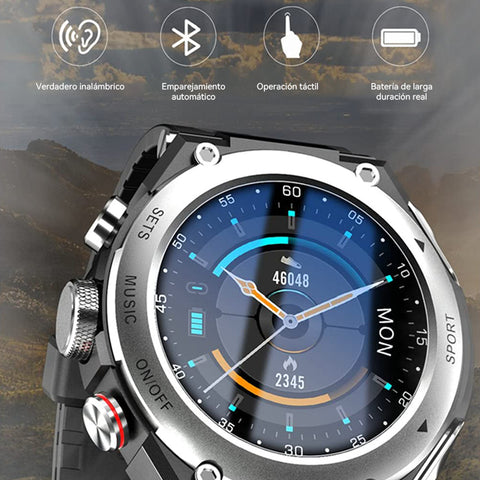 Unique earphone size
Over time, the earplugs will automatically mold to the ear with the patented memory foam, making them extremely comfortable.
 Heart rate measurement in real time
You can easily monitor your health and fitness live. Or receive notifications when something abnormal is detected.
Warning of high body temperature
When the watch detects abnormal body temperature, the watch vibrates and reminds you to cool down, drink water and take care of your health.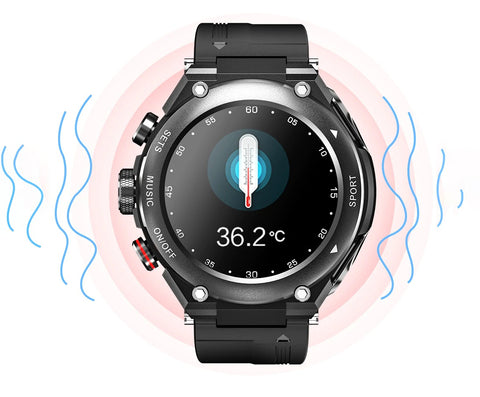 Blood pressure and oxygen monitoring
A new method of live monitoring allows you to measure blood pressure and oxygen directly on the watch without connecting to an app, so you can understand your body's changes anytime, anywhere.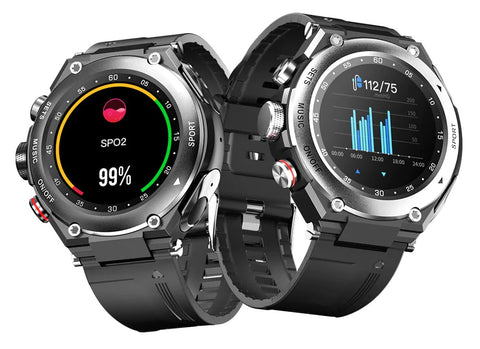 Many different types of screens and customizable backgrounds
There are many different styles of ring display available for free. You can change the display of the clock at any time. The background can also be customized.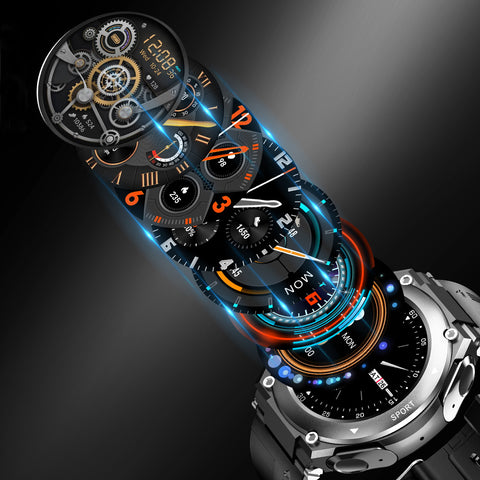 Specifications

Material: zinc alloy, silicone
System requirements: Android 4.4 or iOS 8.0
Diameter of strap: 58 mm max
Display diameter: 53 x 18 cm
The package contains

1 x Moodert™
1 x Wireless Headphone
1 x USB charging cable
FAQ
1. Is the Moodert™ watch waterproof?
-- Yes, the watch is rated IP67 and is waterproof.
2. Is it possible to make and receive calls?-
- Yes, the Alpha™ watch supports incoming and outgoing calls.
3. Can the watch receive messages from social software?
- Yes, you can receive message notifications from Facebook, Twitter and other social applications..
4. Does it work with my phone?
- Yes, Android 4.4 and later or iOS 8.0 and later.
5. Which program is applicable to use it with my phone?
- Download the Vband program from the device's app store
6. Is there a voice assistant feature?
- Yes

Share
View full details